Regular price
Sale price
$64.99 USD
Unit price
per
Sale
Sold out
Don't let pain ruin your day. This calming blend of aloe vera, shea butter, lidocaine, and CBD targets areas of inflammation quickly, easing painful joints, relieving sore spots, and moisturizing irritated skin. The light scents of vanilla and citrus will calm your mind while our hemp pain relief cream goes to work on your body.
This CBD pain cream is a 3000mg formula that's packed with soothing ingredients, but what really makes it special is the combination of CBD and 2% lidocaine. In addition to the surface-level pain relief lidocaine provides, studies have shown that it also increases the absorption of CBD, driving the anti-inflammatory oil deep into the skin where it can access more cannabinoid receptors. The combination of these powerful ingredients means our CBD pain cream has far better uptake—and provides better results—than your average pain relief cream with hemp or lidocaine alone.
At Butler Hemp Co., we're proud of the work we do in conjunction with our sister company, Kancanna. All of our hemp is grown in the United States, and between our two companies, we process every batch in-house under strict CGMP regulations. Before any products reach our shelves, they're tested at least twice by a third party to ensure their purity, potency, and safety.
When we can't source and process a particular ingredient ourselves—such as in the case of the moisturizing cream we use as a base for this product—we are careful to choose only high-end ingredients made in CGMP-certified facilities like ours.
Ingredients

• Deionized Water
• Carthamus Tinctorius (Safflower) Seed Oil
• Theobroma Cacao (Cocoa) Seed Butter
• Glycerin
• Butylene Glycol
• Stearic Acid
• Butyrospermum Parkii (Shea) Butter
• Cetyl Alcohol
• Glyceryl Stearate
• PEG-100 Stearate
• Dimethicone
• Allantoin
• Panthenol (Pro-Vitamin 85)
• Organic Aloe Barbadensis (Aloe Vera) Leaf Extract
• Organic Calendula Officinalis (Marigold) Flower Extract
• Organic Chamomilla Recutita (Chamomile) Flower Extract
• Cucumis Sativus (Cucumber) Fruit Extract
• Lavandula Angustifolia (Lavender) Extract
• Oryza Sativa (Rice) Bran Extract
• Rosmarinus Officinalis (Rosemary) Leaf Extract
• Helianthus Annuus (Sunflower) Extract
• Tocopherols
• Carbomer
• Triethanolamine
• Phenoxyethanol
• Caprylyl Glycol
• Hexylene Glycol
• Ethylhexylglycerin
• Orange Oil Extract
• Vanilla Oil Extract
• Lidocaine
• Full Spectrum Hemp Extract
Directions for Use

Apply a generous amount of product to painful areas and smooth it in until the cream absorbs.

For external use only.
How Long Will One Product Last?

It depends on how much you use and how frequently. If you apply cream to one area on a daily basis, a bottle will last roughly 30 days.
View full details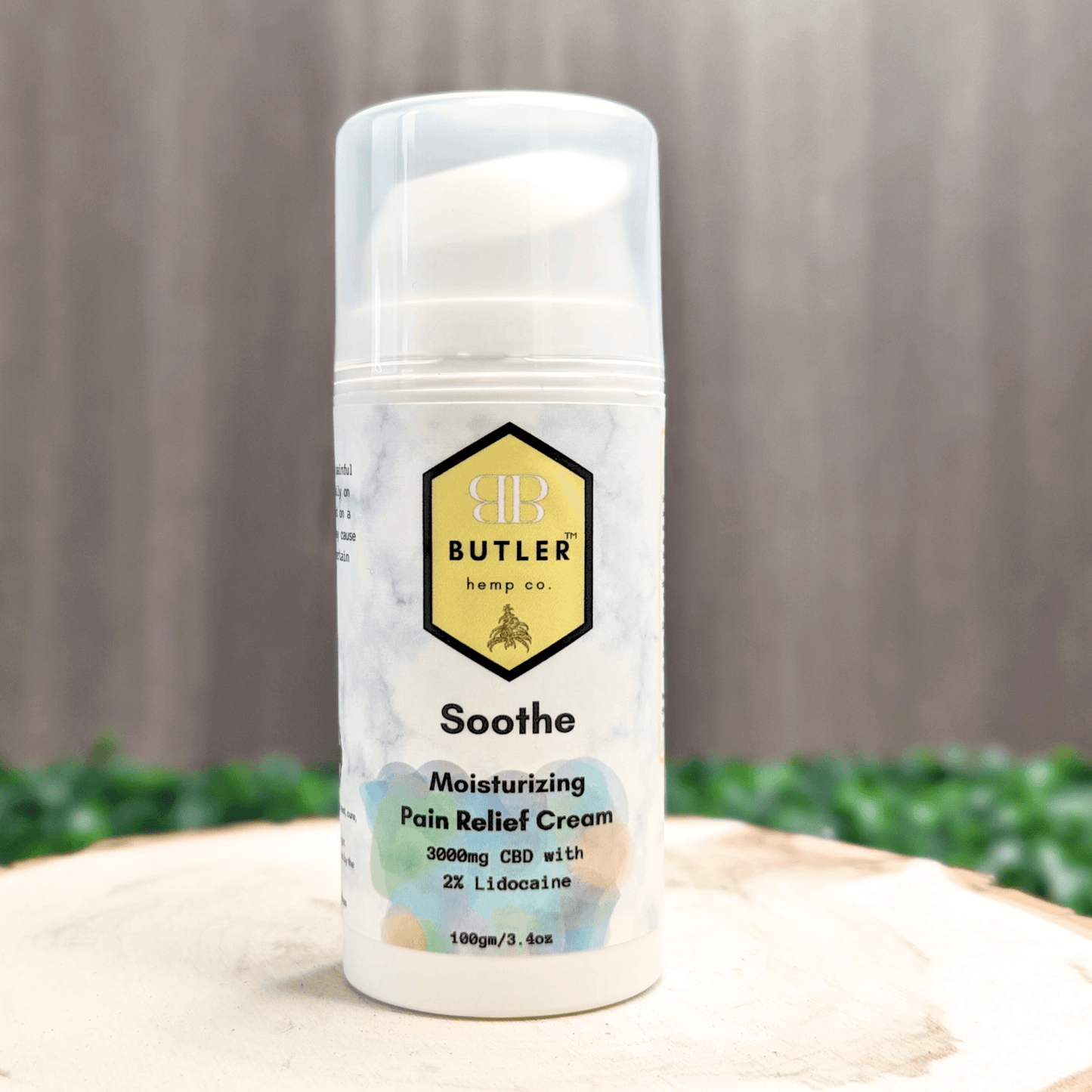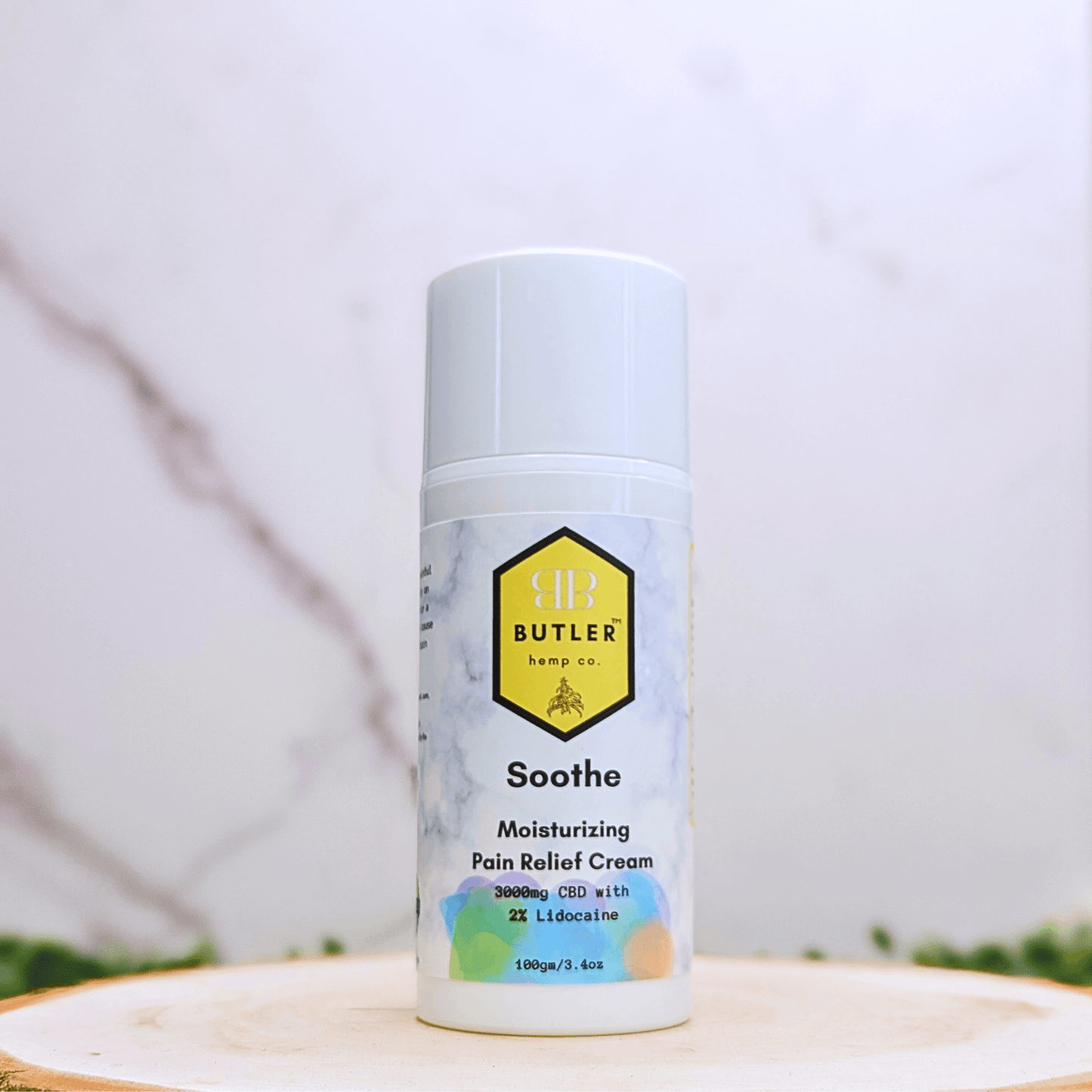 First order
The product seems to work alright. I am having trouble adjusting to the amount to use in comparison to my previous product. Since this is the first purchase - time will tell the effectiveness.
The dispenser…
Dispenser is balky and too delicate. The product is excellent!
Butler Hemp Co.
I have bought several products from them with a great result to all
Magic cream
Relief in seconds. Great stuff
No Pain in 5mins
This product has worked so well I have no back pain in 5mins after taking it. And it last for hours
FAQs
Does CBD cream really work for joint pain?

Yes, it works excellently. Most joint pain, and the pain from all injuries, is a result of inflammation in the tissue. CBD is one of the best natural anti-inflammatories in the world.

In addition to soothing inflammation, CBD also interacts with the body's endocannabinoid system to reduce pain directly.
What type of pain is CBD most effective at treating?

CBD is most effective for inflammatory pain. We have plenty of customers who use our products to soothe their arthritis, lessen pain after surgery, and heal sports injuries.

Since most pain originates from inflammation, you can use CBD products for almost anything.
Should I choose the Soothe Moisturizing Relief Cream or the Freeze Rapid Relief Roll-On?

This is largely a matter of personal preference. You can use either one for just about any type of pain.

With that said, we've found that our Soothe Cream excels at easing joint pain around the wrists, finger joints, elbows, knees, and anywhere else where there's not a deep layer of tissue beneath the application site. The cream absorbs quickly and leaves no greasy or tacky residue on the skin, so you don't have to worry when going about your daily life.

The Freeze Roll-On is popular with customers who have deep-tissue pain such as a pulled back or thigh muscle. The rollerball applicator adds a massage element that can help you work out any knots in your muscles as you apply. It can sometimes leave a residue, so you'll need to allow longer for the product to dry completely.
Is it okay to use Soothe Moisturizing Relief Cream every day?

Yes. There is no dosage limit; simply apply as needed.