Regular price
Sale price
$64.99 USD
Unit price
per
Sale
Sold out
If you live with pain and anxiety, you don't have to turn to prescription drugs to find relief. This Extra Strength Full Spectrum CBD tincture works within your endocannabinoid system to restore homeostasis and bring your body back to its natural state of health and wellness. It's a potent pain reliever and stress reducer that comes right from nature and doesn't cause any of the side effects or addiction that can come from pain pills and prescription anxiety medications.
The secret of why this 3000mg full spectrum CBD tincture is so effective lies with something called the "entourage effect." Our formula isn't just made up of CBD; it's loaded with around 150 other minor cannabinoids as well. Research shows us more and more every day how keeping nature's intended balance of cannabinoids together enhances the effects of each one.
Plus, by opting for a 3000mg CBD oil tincture rather than a less potent formula, you're essentially getting twice the bang for your buck. You'd have to buy double the amount of a less concentrated formula to achieve the same results.
We also take special pride in the quality of our products at Butler Hemp Co. We, in conjunction with our partner company, Kancanna, do two rounds of testing for each product we manufacture. As soon as we receive a new hemp harvest, we test to make sure no hemp enters our facility with unwanted microbes, heavy metals, or other contaminants. After manufacturing is complete, we test again to ensure each product that reaches our shelves is pure, potent, and contains exactly what we say it does.
Watch a video review of this product:
Ingredients

The main component of our Extra Strength Full Spectrum CBD Oil is CBD. This formula also contains all other trace cannabinoids naturally found within the hemp plant, as well as coconut oil as a carrier oil.
Dosing Guide

If you have a small build or are inexperienced with CBD products, begin with 25mg. Most people work up to an average dose of 50mg, but you can go as high as 100mg if you're resistant to cannabinoids.

One full dropper of Extra Strength Full Spectrum CBD Oil 3000mg contains 100mg of product. Use half of a dropper for 50mg or a quarter of a dropper for 25mg. You'll find these lines already marked on the dropper for your convenience.
Directions for Use

Please shake before using.

Place your chosen dose under your tongue and hold it there for several seconds. Once you've given the formula a chance to absorb sublingually, you can swallow the rest.

Use daily or as needed for pain and anxiety.
How Long Will One Product Last?

At a standard dose of 50mg per day, one bottle will last two months. At 25mg per day, a bottle would last four months, and at 100mg per day, it would last 30 days.
View full details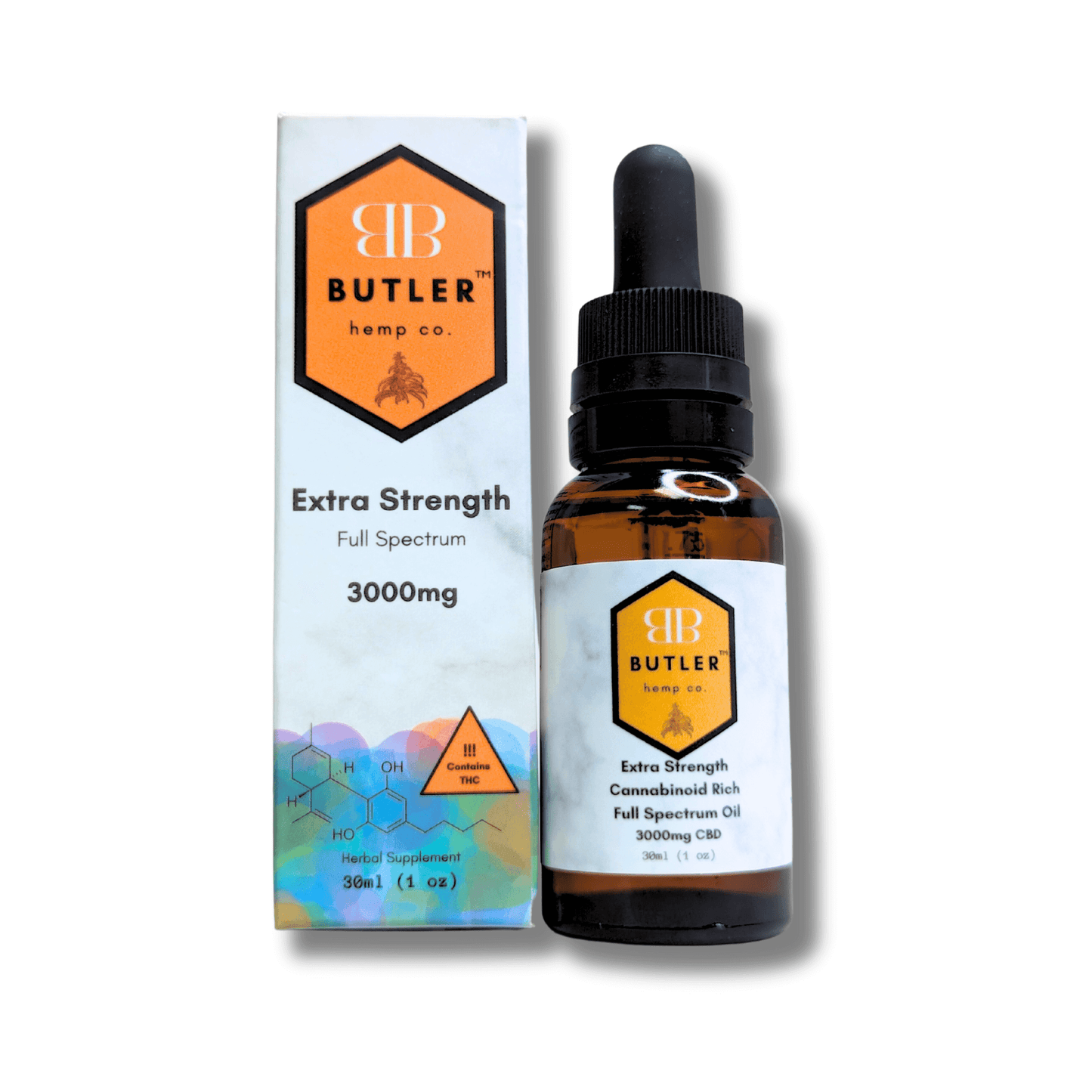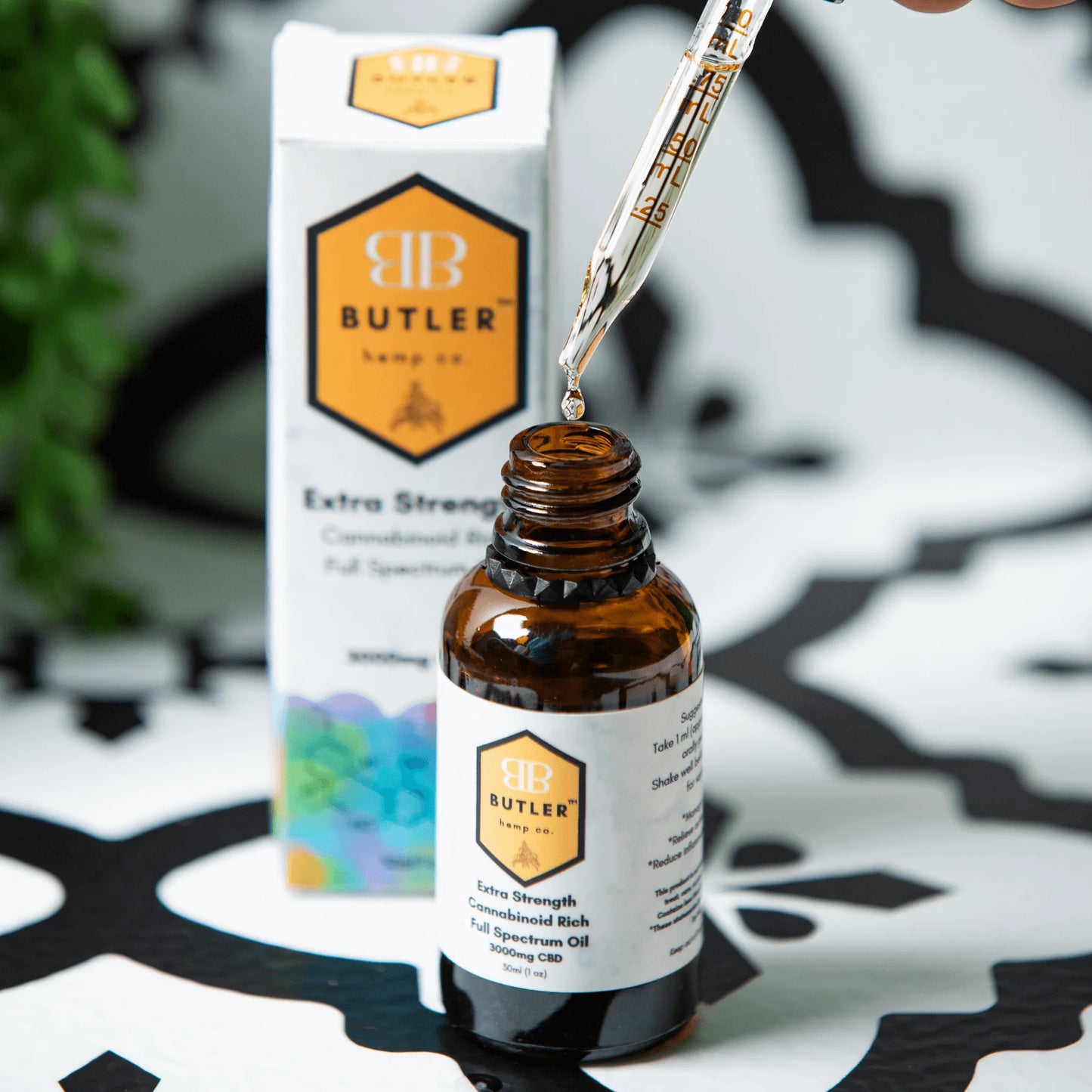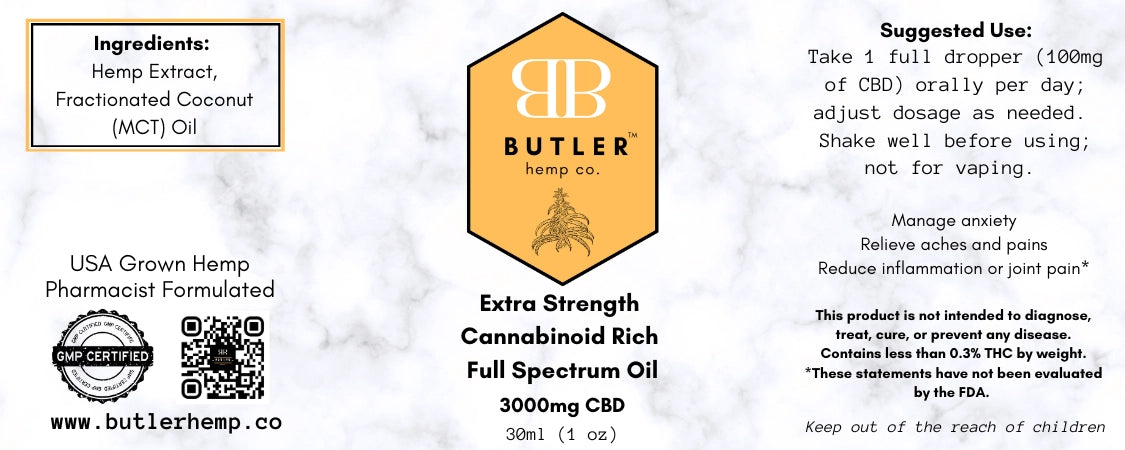 Extra Strength Full Spectrum 3000mg CBD Oil
ABSOLUTELY WONDERFUL
Love the quality of products, friendly knowledgeable people and premier customer service.
Great product
Really helps us wake up and focus. My boyfriend puts it in his coffee, I take it straight. Love this product and the company!!
I've tried a couple other brands of oils and this is the best tasting by far. It has a nice calming effect, and slows down my racing mind. I have noticed it makes me a little drowsy but doesn't disrupt my day.
I am very happy with it. I have restless leg syndrome and when I take it it helps me sleep and my legs don't bother me at all
FAQs
What happens if I take too much Extra Strength Full Spectrum CBD Oil?

It's always best to start with a small dose and increase the dosage gradually. However, you're unlikely to experience any severe side effects even if you take too much. If you've accidentally taken more than the recommended dose, be aware that you may feel drowsy. You might want to avoid driving until you know how the high dose will affect you.
What are the side effects of Extra Strength Full Spectrum 3000mg CBD Oil?

The side effects of our Extra Strength Full Spectrum 3000mg Oil are actually its main benefits. You'll feel relaxed, calm, and your pain should ease. If this is your first time — or you're experimenting with a larger dose than usual — be aware that you may get a little drowsy.
Do you get high from full spectrum CBD oil?

No. The legal limit of THC for a CBD product is 0.3%, which is too small of a dose to cause any feelings of being high.
How long does 3000 mg of CBD stay in your system?

Many people find a daily dose sufficient for pain and anxiety relief. However, everyone's metabolism is different, so it's perfectly fine to take a dose twice a day if you feel you need it.

For drug testing purposes, you could receive a positive result — even with the low levels of THC found in this formula — for up to four weeks after your last dose. If you must take a drug test within the next month, we suggest choosing our Extra Strength 3000mg THC-Free formula instead.