Regular price
Sale price
$79.99 USD
Unit price
per
Sale
Sold out
Is pain or anxiety keeping you up at night? Do you wake up multiple times and struggle to fall back to sleep? Find relief with this natural, healthy sleep aid.
This tincture contains a special blend of cannabinoids formulated specifically to help you fall asleep, stay asleep, and wake up rested without any lingering drowsiness. We've combined cannabidiol (CBD), cannabigerol (CBG), and cannabinol (CBN) to achieve a perfect formula that eases tension, melts away stress, and promotes restful sleep in a gentle, natural way.
CBD is known for its anti-inflammatory, anti-anxiety, and stress-busting effects. It's popular as a natural pain reliever and sleep aid because it is effective and non-addicting.
Whereas CBD is excellent for relaxing the musculoskeletal system, CBG works primarily to ease stress in the digestive system. It can help people with indigestion and inflammatory gut conditions find relief and get a good night's rest.
CBN is the powerhouse ingredient that makes our Full Spectrum CBD Sleep Oil Blend so effective. In small doses — such as what you'll find in this product — CBN promotes deep, restful sleep. Its effects will last all night long, meaning you can fall asleep easier and stay asleep for longer.
Full spectrum CBD for sleep is perfectly safe, even for long-term use. This product is not addictive or habit forming and has none of the harmful side effects associated with prescription sleeping pills.
All of Butler Hemp Co.'s hemp is grown in the U.S. and processed by our partner company, Kancanna, one of the largest CO2 processing facilities in the country. All hemp that arrives on our site is tested by a third-party lab to ensure there are no traces of pesticides, microbes, or heavy metals, and that the level of THC falls below the legal 0.3% threshold that separates a hemp plant from a marijuana plant.
Ingredients

One full dropper of Full Spectrum Sleep Blend contains:

• 62 mg CBD (cannabidiol)
• 34 mg CBG (cannabigerol)
• 5 mg CBN (cannabinol)
• Coconut oil (used as a carrier oil)
Dosing Guide

Our Full Spectrum Sleep Blend dropper is conveniently marked with graduated lines to help you achieve an exact dose every time.

• For 100 mg, take a full dropper of product.
• Fill it halfway for 50mg.
• Fill it to the 0.25 line for 25mg.

If it's your first time using a CBD product (or if you're on the smaller side) start with 25mg. Larger folks, or those accustomed to taking CBD, might want to use 50mg, which is the average dose most people work up to. If you are resistant to cannabinoids and want a heavier dose, you can go up to 100mg. Everyone is different, but the key is to start at a lower dose and work your way up gradually.
Directions for Use

Always shake before using.

Place the desired amount under your tongue and hold it there for several seconds to let the cannabinoids absorb. After that time, swallow the dose so the remaining cannabinoids can pass through your digestive system.

Use the Sleep Blend before bed for best results.
How Long Will One Product Last?

If you're taking 25mg every night, one bottle will last about four months.

If you take 50mg every night, the bottle will last two months.

If you take 100mg every night, the bottle will last roughly 30 days.
View full details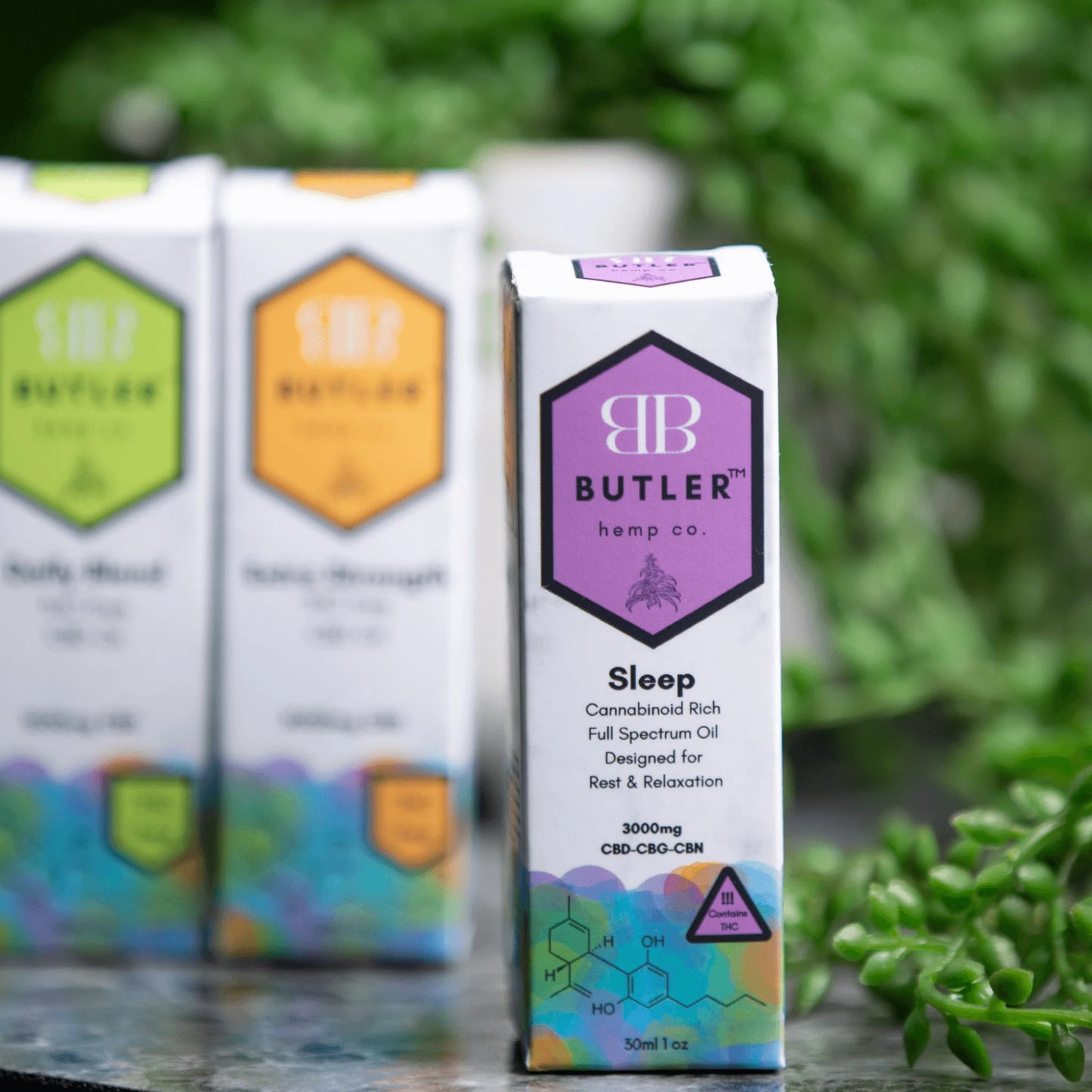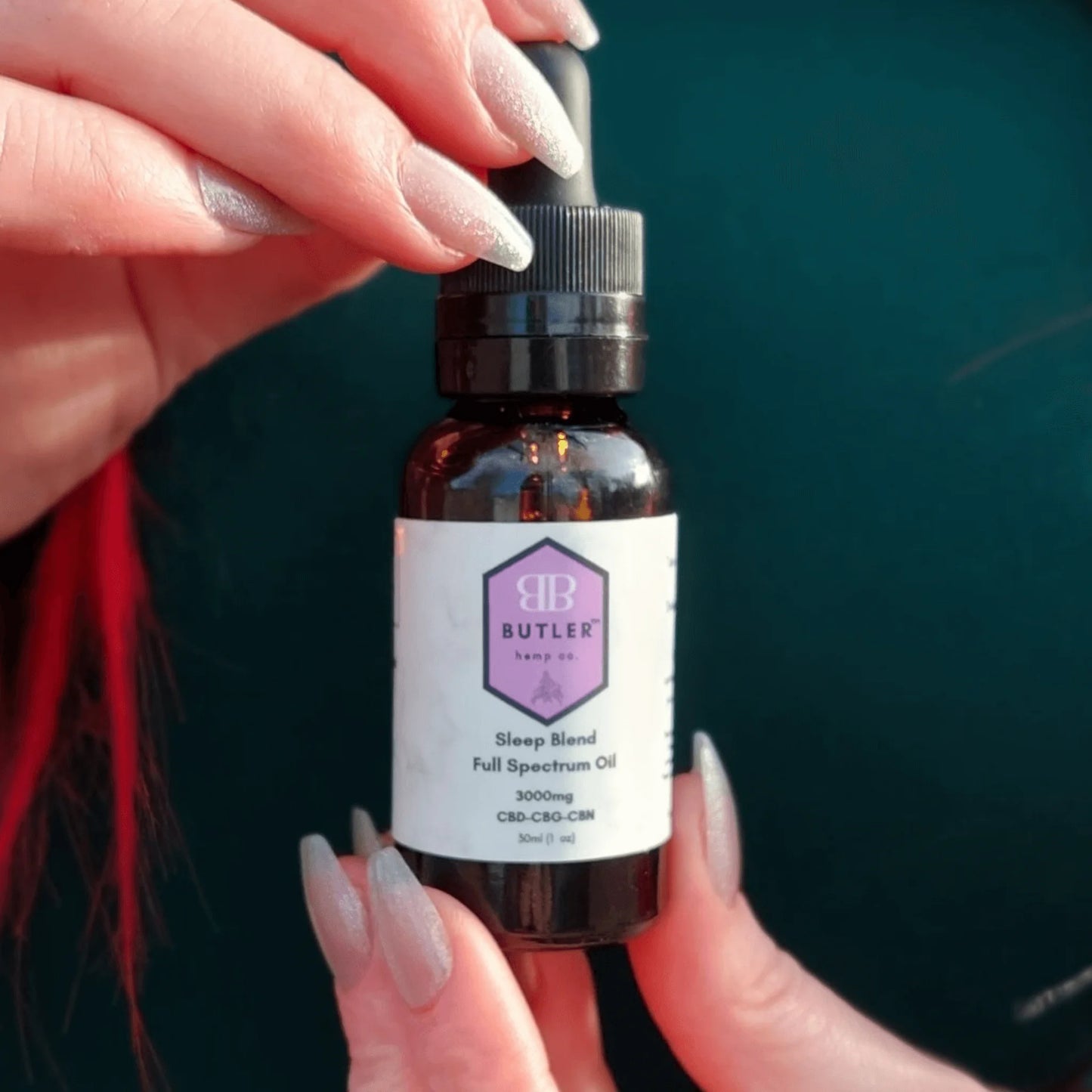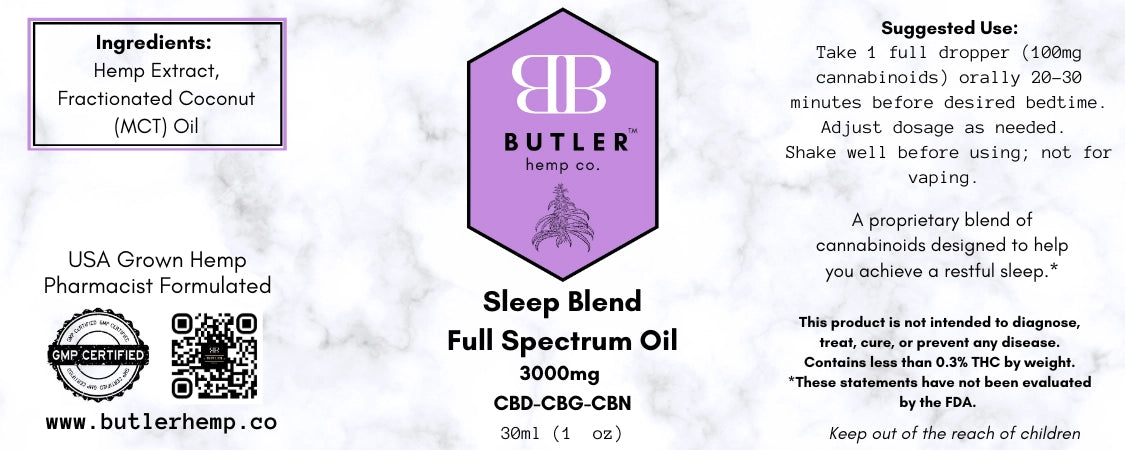 This stuff is absolutely amazing!!! I have struggled with sleep for the last 10yrs and I have tried a lot of sleep aids and nothing worked. This not only helps me get to sleep but stay asleep amazing!!
Heavenly!
I am under a lot of stress and was having trouble sleeping...was! This product works! I use .50mg and enjoy deep sleep every night. I wake up refreshed, ready to workout, work, errands, etc., and I do not feel stressed out any more.
happy in wichita
It works somewhat, but not how I was hoping for. I double the dose (2 full droppers)
It starts workimg well into the night and I still wake up mid-morning (about 2 to 3 am)
Sleep Blend Full Spectrum Oil
Works great for me, makes me rest and sleep lot better ☺️
Love it!
I love my Sleep Blend Oil. I have been taking sleeping medication for 20 years, and this is the first thing I have found to help me begin getting off the trazadone. I am not fully off it yet, but am down to 1/4 the dose I had been taking. Hoping to be completely off it by the end of summer!! Great product.
FAQs
Do I need a specialized sleep blend, or could I use a traditional full spectrum CBD oil for sleeping?

All full spectrum products will have a calming, soothing effect that should help you relax and drift off to sleep.

But if you're looking for the best CBD product for sleep, choose this specially formulated Sleep Blend that contains CBG and CBN in addition to a traditional full spectrum CBD blend. These ingredients have been shown to help users fall asleep and stay asleep more effectively than a regular full spectrum product.
What drugs should not be taken with full spectrum CBD oil?

Do not use CBD oil if you take any prescriptions that warn you not to consume grapefruit or grapefruit juice. CBD blends are processed by the same liver enzyme as grapefruit and will therefore cause similar drug interactions.
What happens if you take too much Sleep Blend Full Spectrum CBD oil?

Because CBN can be psychoactive in large doses, taking a significantly large dose could counteract the relaxing effects and instead make you feel a bit high, similar to the effects of THC. This would only happen if your dose was far higher than recommended, however. Gradual increases will not cause this side effect.
Will the Sleep Blend Full Spectrum Oil affect drug test results?

Yes. The minor amount of THC in a full spectrum product — including the Sleep Blend — could remain in your system long enough to trigger a positive drug test result for weeks after your last dose. If you will need to undergo drug testing in the near future, opt for a THC-free CBD isolate instead of a full spectrum blend.